How much does a Wedding in The Leela Goa cost?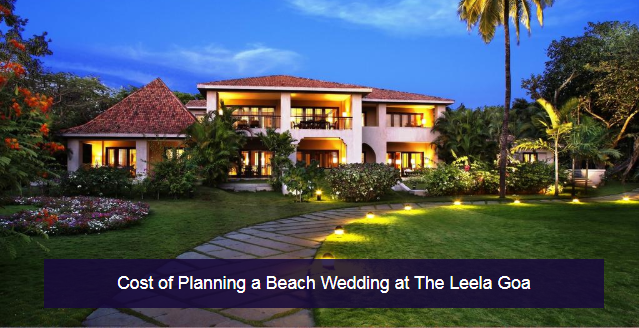 Hotel Leela Overview-
The Leela Palaces, Hotels and Resorts have its headquarters in Mumbai, India and is owned by Hotel Leela Aventure Ltd. It is founded by Late Capt Krishnana Nair. The Leela Goa has been founded in 1991 and offers the most elegant and opulent venue for hosting destination weddings. Maintaining the synergy between all hotels, The Leela Goa is also built on a palatial scale awe-inspiring everyone who is attending a function here. The resort with its dramatic interiors, antique architecture, beautiful lawns and well maintained gardens have won the very prestigious World Travel Award for being one of the best luxury resorts in the Asia-pacific region.
When it comes to planning a perfect holiday destination in India, Goa is sure to top the list. It is also the most preferred destination when planning for a beach wedding. Beach weddings are always much more magical than the usual traditional weddings and getting married at The Leela Goa is sure to leave you and your guests awe struck from the time they enter the grand lobby of the hotel.
Venues Available at The Leela-
The Leela Goa has in total 4 Royal Villas, 6 Club Pool Suites, 9 Club Suites, 5 Lagoon Deluxe Suites, 21 Lagoon Suites, 66 Pavilion Rooms, 94 Lagoon Terrace Rooms and 1 Presidential Suite. The Royal Villas have a private pool on the other hand other than having a private pool the Presidential Suite also has garden shower in a private Courtyard. Each of the room at The Leela Goa is luxuriously appointed with plush furnishings and a private balcony. Smaller wedding related functions can also be conducted near the beach or pool depending on the suitability.
It is a perfect wedding venue that has beautiful large lawn facing the Arabian Sea and a small garden near the Sal River. Each of these venues offers spectacular scenic beauty making it a perfect backdrop for your wedding pictures. The hotel is set in 75 lush acres of lands with a virgin beach, a 12 hole golf course and world class dining. Traveling to The Leela Goa is very convenient as it is a 30 minute drive from Margao railway station and around a hour drive from the International airport.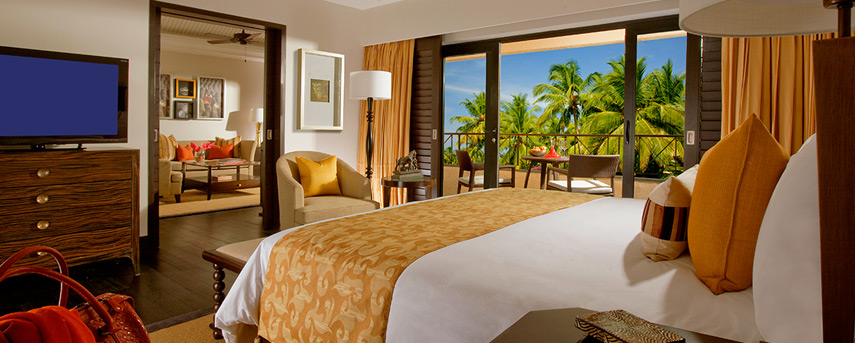 Service Available at Leela Hotel in Goa-
The Leela Goa offers wide range of services for weddings and takes special care in making your stay with them memorable. Some of the services that they specialize in are:
Floral decoration of the venue, mandap etc
Multi event space
Pre-marriage beauty services and treatment
 Special body massages for the couple
Accommodation for guests
Mehandi arrangements
Transportation services for the guest (to and fro from the airport to the railway)
Vallet parking for all their guests
Special suite arrangement for first night
Staff arrangements
Full power back up for all events
In house catering
Diverse Cuisines Menu
Bar and Restaurant
Some Glimpse of The Leela Goa-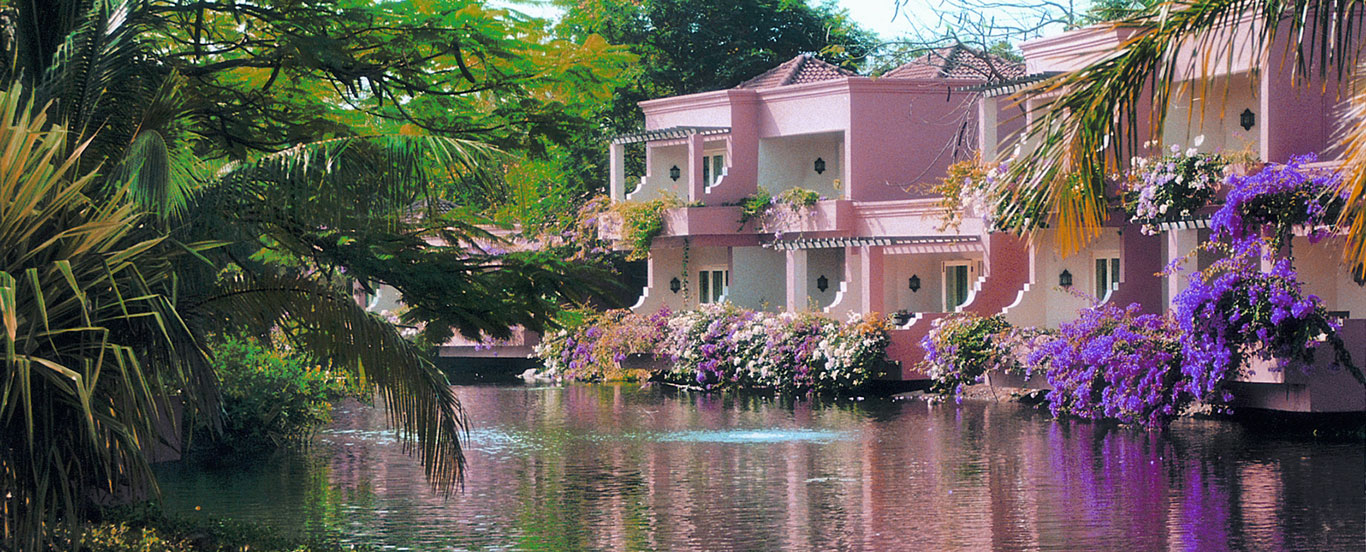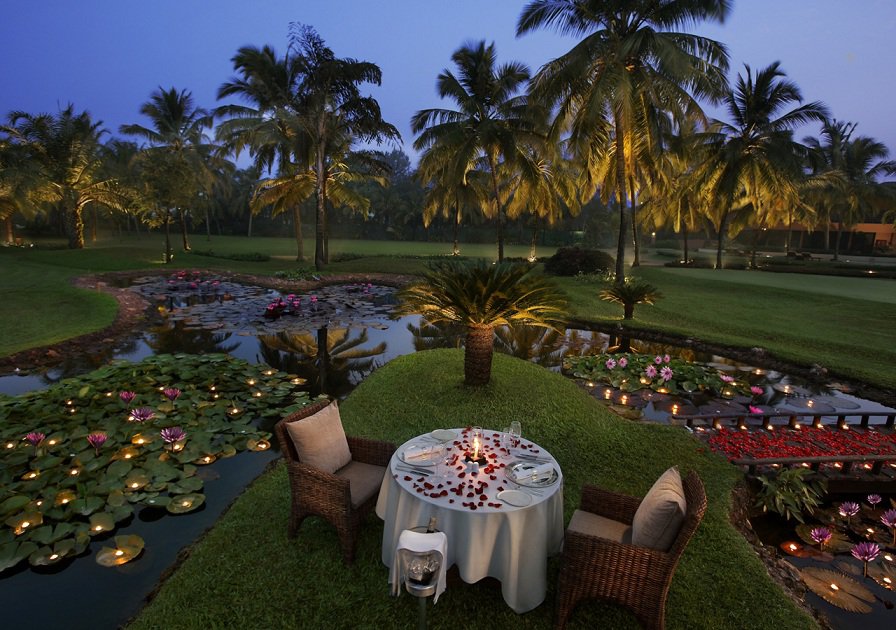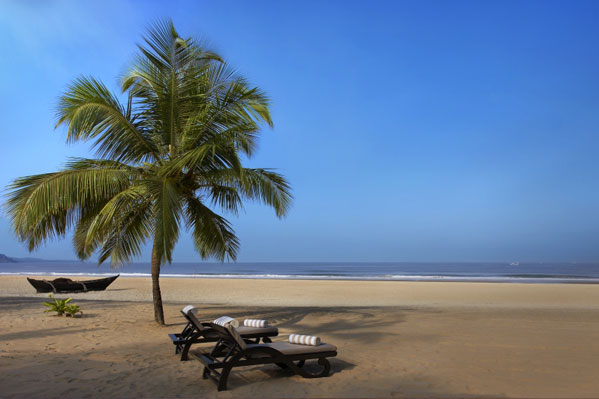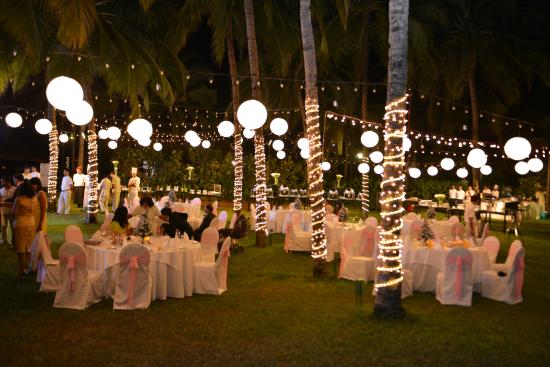 A look inside The Leela
The management and team of The Leela Goa strive hard in making your and your guests' stay memorable. They take special care to ensure that everything is rightly taken care of.
Cost of Hosting a Destination Wedding at The Leela Goa
Rough Event Flow
Day 1: Arrival, Lunch, Mehandi and Sangeet
Day 2: Wedding High Tea and Reception Party
Day 3: Check out post breakfast
Accommodation and Meal
Considering your guests to be approximately 100 the requirement would be :
50 rooms (double sharing)
2 nights and 3 day (including all 3 meals)
| Lunch | 2,800 – 3,500 INR |
| --- | --- |
| Dinner | 3,500 – 5,500 INR |
Depending on when you are making the booking, the average cost for each room would be somewhere between 15000 INR to 25000 INR.
1. Arrangements
Per event the cost for decoration and arrangements would be somewhere between 4 lakhs to 7 lakhs. The cost may increase depending on how detailed you want to go with the wedding decorations.
2. Banquet Booking
Banquet booking is usually done on the basis of guests and menu.
Estimate Cost for hosting a beach wedding in Goa at The Leela, with a guest count of around 300
| Accommodation | 50 Lacs- 68 Lacs |
| --- | --- |
| Food | 15 Lacs – 20 Lacs |
| Total Expense | 62 Lacs – 74 Lacs |
The above will help you get a fair idea on the average cost of holding a wedding at The Leela Goa.