Hire Myshaadiwale Wedding Planners in Jaipur
When planning for a royal destination wedding in India, what can be a better place than the "pink city of India"; Rajasthan capital city, Jaipur. With its magnificent historical views, Rajasthan feel of grandeur and romance and one of its kind culinary, Jaipur is indeed the most ideal destination for a wedding.
Jaipur is perfect blend of heritage and modernization making it a picture perfect location for the magical royal wedding. It is famous for one of its kind; awe-inspiring forts, royal palaces, glorious bazaars and finger licking culinary and is located 260km away from "Dilwallo ki nagri" ; Delhi.
This architecturally perfect city is considered for conducting top notch luxurious and lavish weddings by residents all across the globe and not just by the Indians. With innumerable wedding venues to fit all budget, Myshaadi wale can help you with planning the most memorable destination wedding in Jaipur.
With so many wedding planners, it gets difficult to make a decision as to who should you be trusting with the responsibilities for your big day. With over 12 years of experience in conducting flawless weddings across the country, MyShaadiWale, have a reputation of being the most preferred wedding planner for destination weddings in Jaipur. We have a dedicated team of professionals who make sure that everything is properly organized and planned to avoid any unavoidable circumstance that might ruin the day for you. With tie- ups with hotels and resorts all across the city, Myshaadi wale ensures that accommodation for you and your guests is just perfect.
We Provide Complete Wedding Planning Services-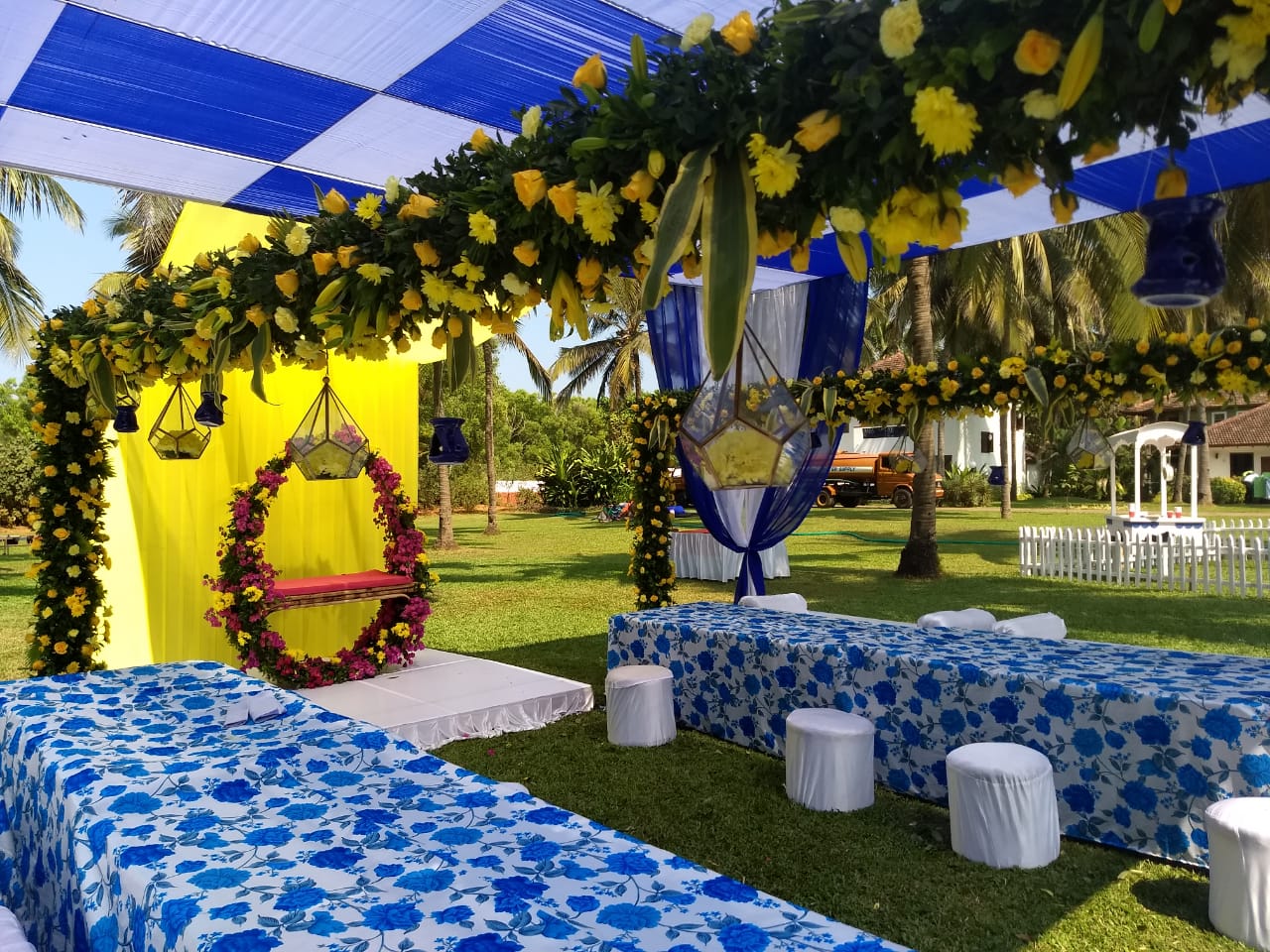 When it comes to planning weddings in a different destination than your hometown, the biggest struggle is to get in touch with the local vendors especially for flowers, gifts, decoration etc but you can be rest assured as My shaadi wale has this completely sorted for you. Not only this, they help
you avail amazing deals and discounts that will eventually help you save a lot on your wedding budget.
Myshaadiwale understands the importance of tiniest detail in making your day special and hence always puts in that extra bit of effort that is required to make sure everything is into place. They have an experience of conducting 700+ weddings and have a dedicated team of 100+ professionals
that helps them in delivering expert wedding planning services Myshaadiewale specializes in providing the following core services to all their clients:
Complete wedding planning
Venue booking
Wedding décor
Partial wedding planning
Vendor sourcing
We also Provides pre conceptualized packages for our clients that have the best deals for each of these packages are easily customizable as per the requirements of the clients.
Top Wedding Destinations in Jaipur-
Chomu Palace
A perfect venue for your wedding pre-wedding and reception ceremonies offering you a new standard for once in a lifetime occasions of your life. Popular among the locals, the Chomu Palace is located very near to the Chomu police station.
They are famous for their finger-licking multi-cuisine catering that serves to both vegetarian and nonvegetarian crowd. The stunning decor along with a lavish stay makes it the most perfect venue for grand royal weddings.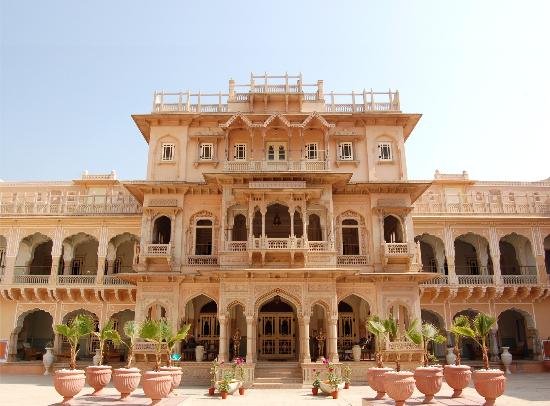 City palace
City palace has perfectly blended the Rajasthani and Mughlai culture has a huge complex which includes the very famous Chandra Mahal' and 'Mubarak Mahal'. This palace complex has amazing entrances like 'Virendra Pol', 'Udai City Palace Aerial View Pol' and the 'Tripolia Gate'. Royal families still inhabit a large part of the palace. Besides palaces and forts, there are large open spaces -where ceremonies can be celebrated with great joie-de-vivre. If you have been dreaming of a fairytale-like the royal wedding, the city palace is an ideal option.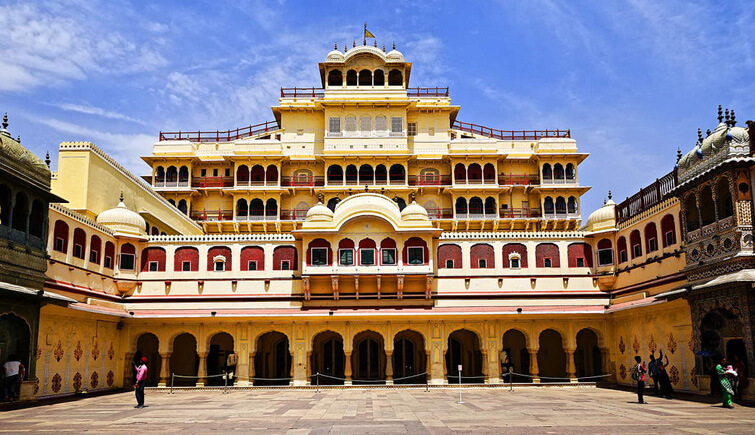 Clarks Amer
In the last couple of years, Clark Group of Hotels has defined a fine living and high hospitality standards in Jaipur and other parts of the country. They have very efficiently blended the modern technology with the true traditions of the Rajasthani culture of a destination that is classical and as well as contemporary. This hotel has very successfully retained the true spirit and charm of Rajasthan making it very popular among people all over the globe.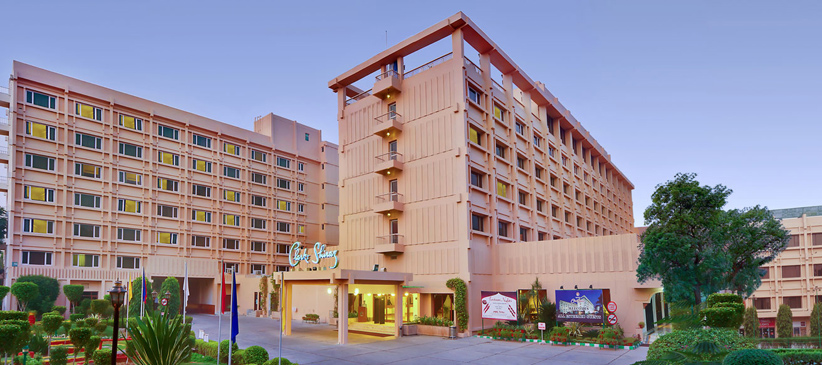 Raddison
Carefully designed to be the ultimate contemporary and upscale wedding destinations, Radisson Blu is located on the MI road in Jaipur. It has classic banquet facilities that spread over a span of 18000 square feet and offers diverse options for venues which includes elegant banquet halls, flourishing green lawns, and open gardens. The team of professionals at Radisson Blu are experienced and strive hard in making your dream wedding a success and they take special care to ensure that everything is properly taken care of.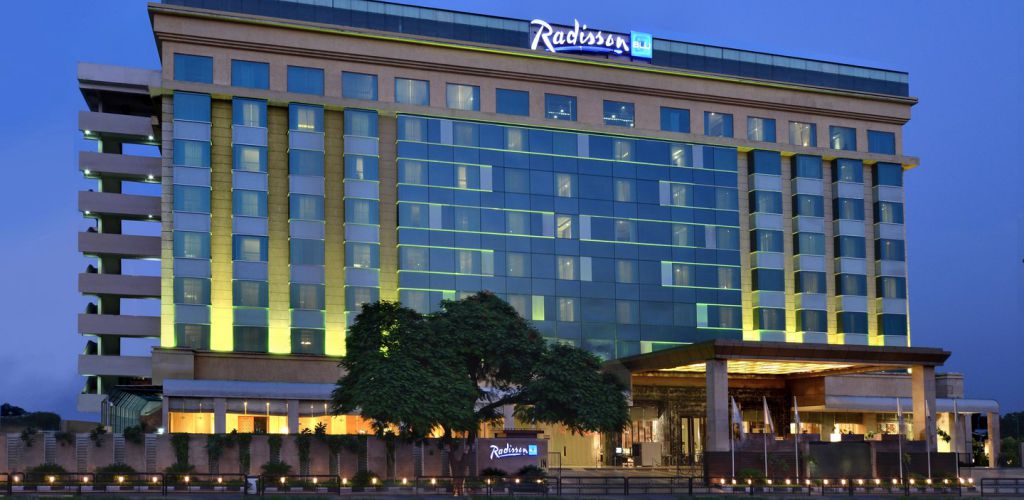 Fairmont
Boasting of being the most popular graceful and refined wedding venue, Fairmont Jaipur is the ultimate destination where "happily-ever-after" begins with luxury and grandeur. It has a wealth of venue options for the special day, from 'Charbagh' and a majestic staircase outside The Grand Ballroom. No matter if you are planning for a soft romantic wedding or a trendsetting modern one, Fairmont Jaipur can be your ideal choice.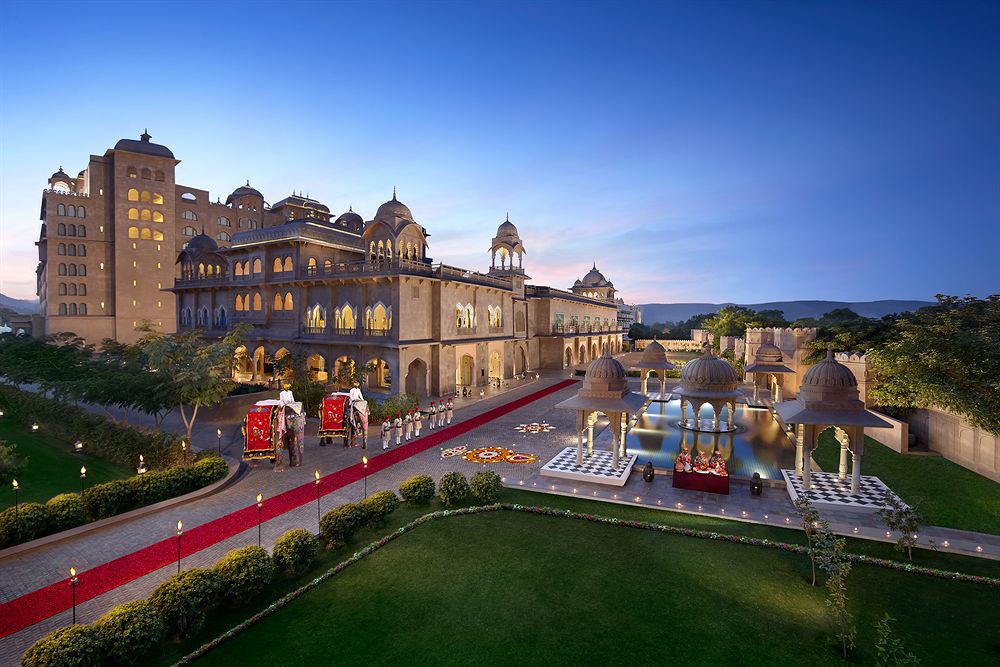 Golden Tulip
Located on the MI road, Golden Tulip is an exemplary venue for a destination wedding for anyone in search for a venue. Having a variety of colorful and innovative setups, Golden Tulip is well equipped for each of your wedding functions making it a gala event worth remembering a lifetime. Approximately 600 guests can easily be accommodated in the venue and it has all the amenities such as 24×7 service stall, accommodation for guests, impaneled decor vendors, in house multi cuisine catering and valet parking to make your wedding a smooth and convenient experience.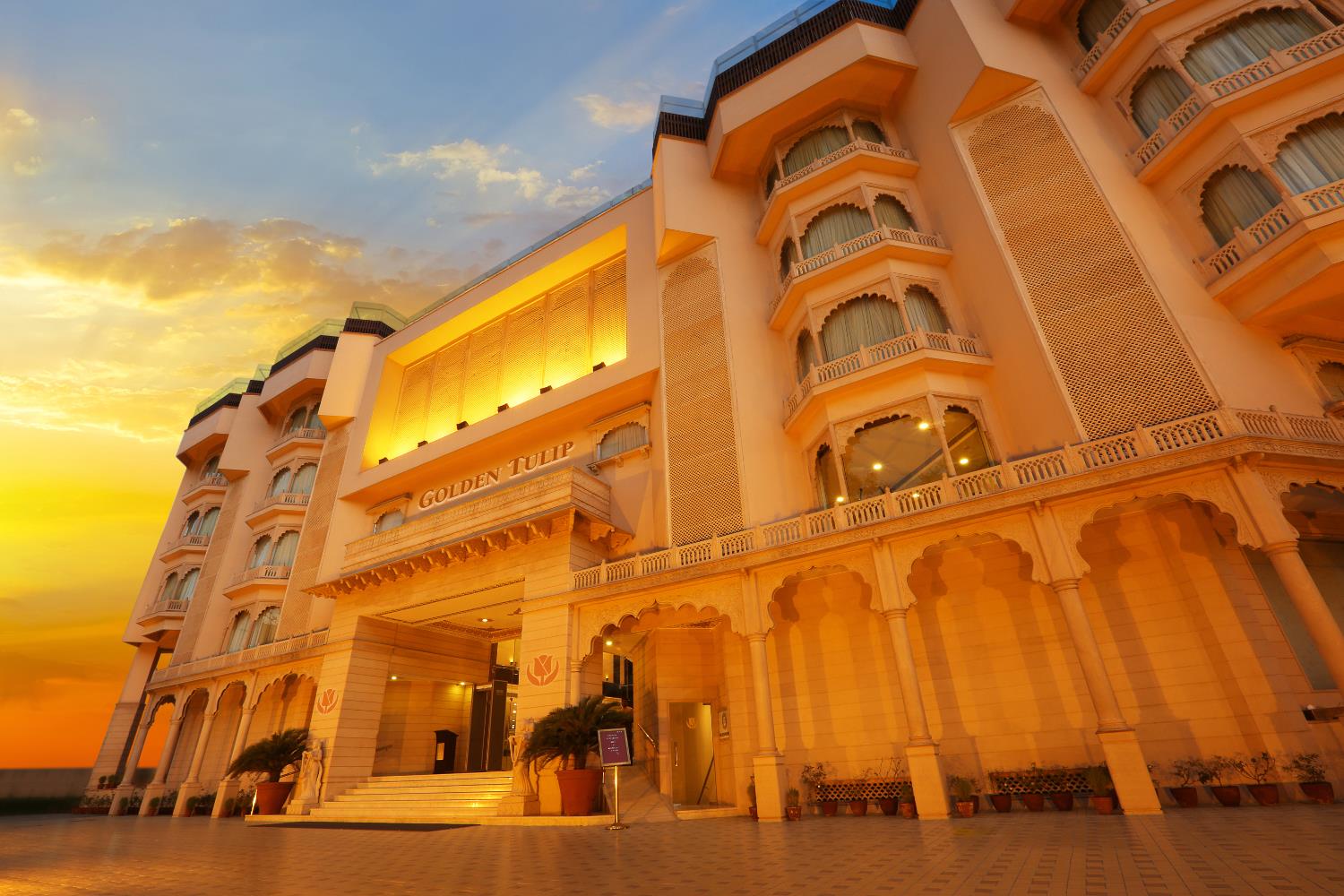 Holiday INN
Classified as a luxury 5 start Hotel, Holiday Inn is a lavish venue for hosting wedding ceremonies. Located near the famous Rajasthan High Court, the architecture of the hotel is largely influenced by the local culture and sentiments of the place. It is popular for providing its guest with a unique traditional Rajasthani experience blended with international hospitality standards. Started in 1994, Holiday Inn is very popular for its services and is a hot spot for conducting wedding ceremonies.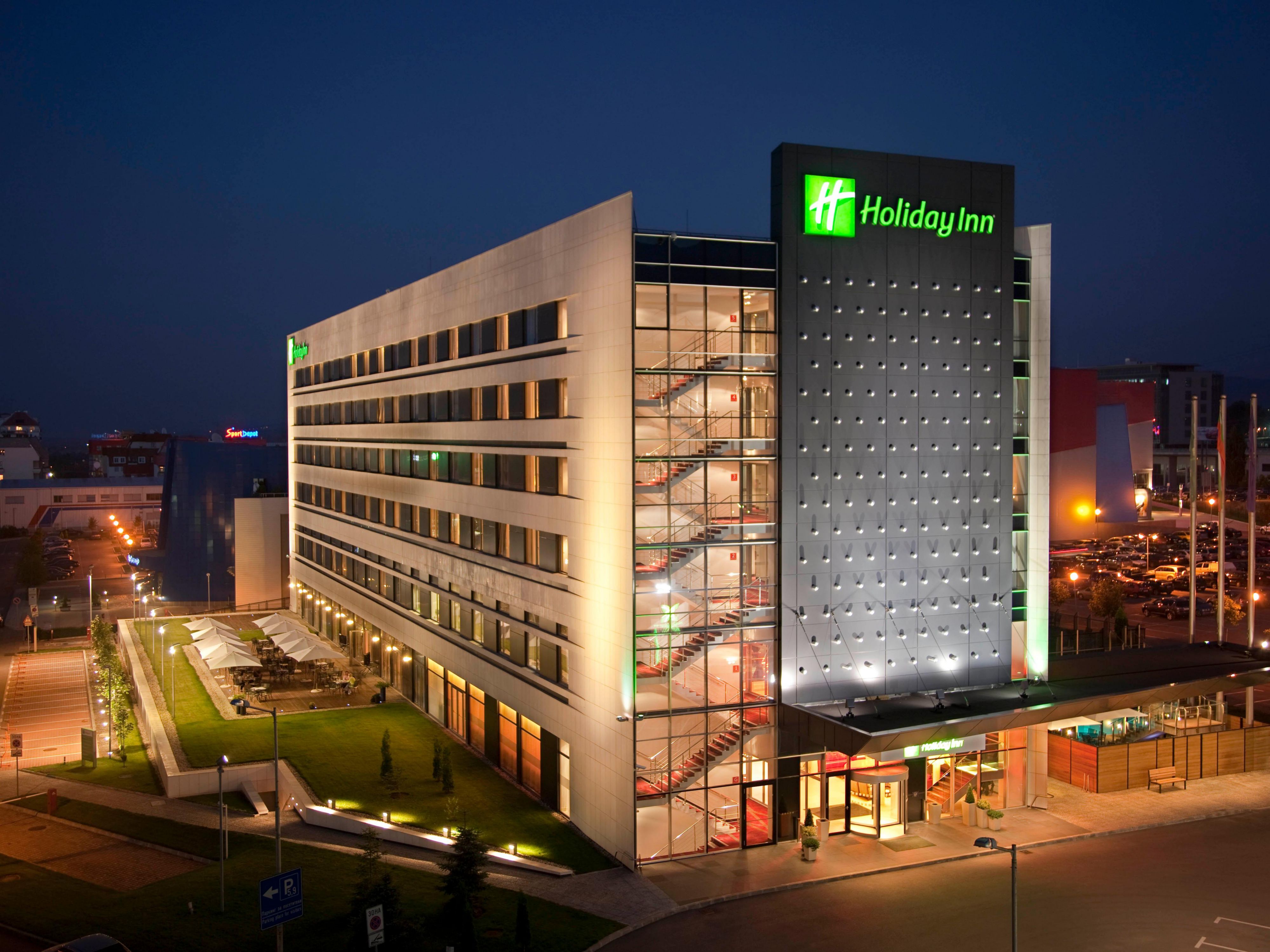 Jai Mahal palace
Located amidst beautiful Moghul Gardens, Jai Mahal Palace is a masterpiece and its architecture is largely influenced by the Indo-Saracenic style. It dates back to 1745 AD, is an ideal location for people who are looking for a wedding venue that blends authentic Rajasthani magnificence with modern comforts and luxury. Main shopping center and other famous historical monuments are in close proximity to the palace serving as attraction spots for your guests attending your wedding. The palace has 5 outdoor venues that can easily accommodate 40-3000 guests wherein the indoor hall is good enough for accommodating approximately 150 people.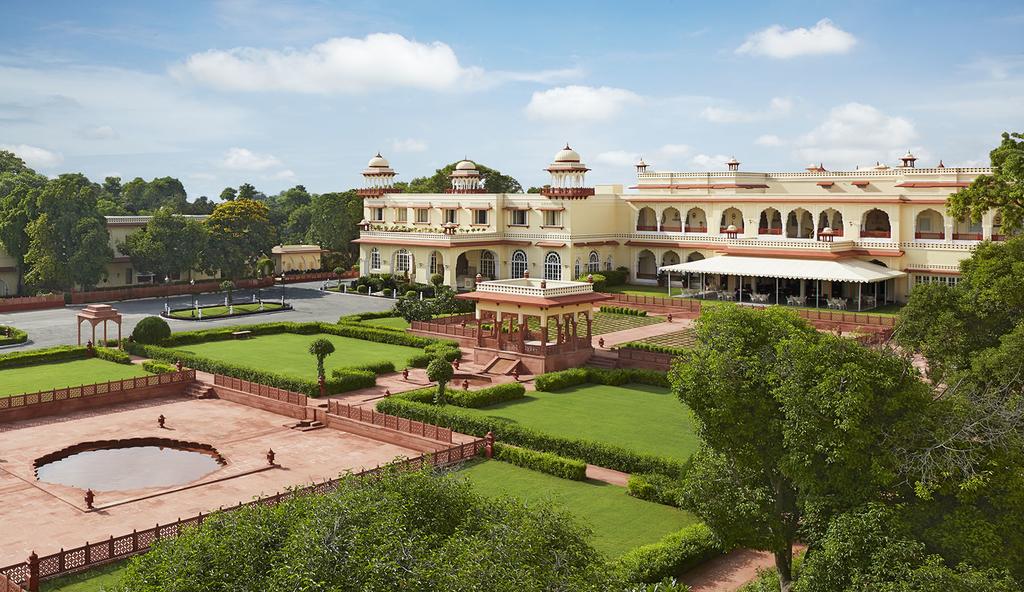 Le Meridean
Spread over 25 acres of land, Le Meridien is the perfect wedding venue for anyone who is planning for a royal luxurious wedding. Its close proximity to Jaipur Junction Station makes this location very easily accessible and along with its top-notch accommodation facilities with all the modern comforts makes it an ideal destination wedding venue. In total it has 116 guest rooms and it features a series of banquet halls like Diwan-E-Khas and Amer Ballroom. Hotel Le Meridien Jaipur serves palatable delicacies in both vegetarian and non-vegetarian food to their guests.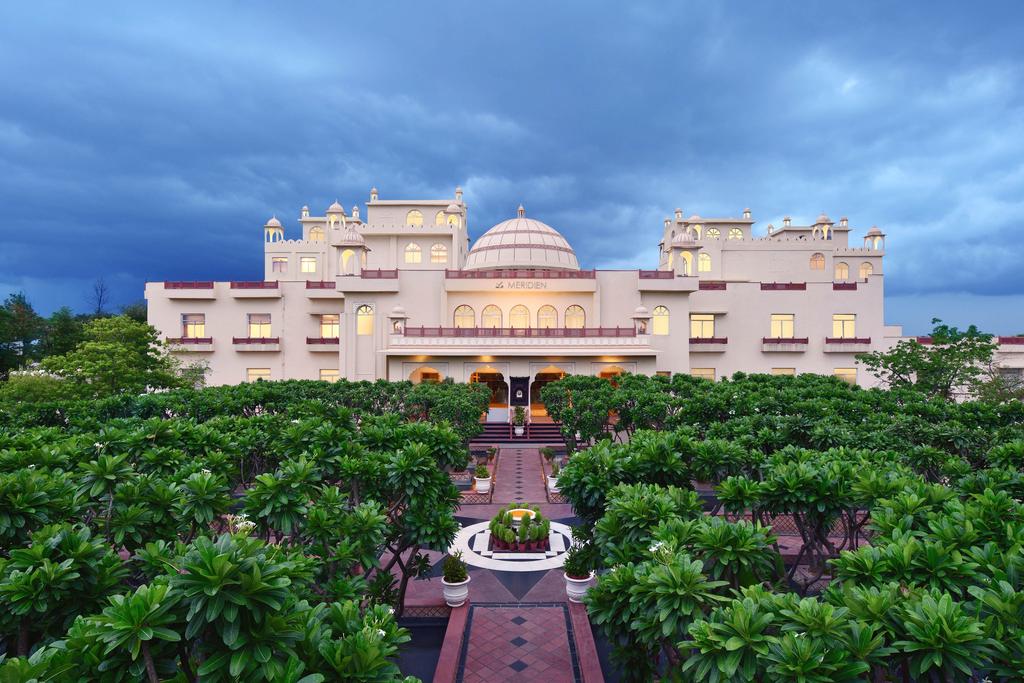 Shiv Villas Resort
This palace theme resort is surrounded by the lush green Aravalli Range providing breath taking scenic view all around the year. Located on the Delhi Jaipur highway, it is extremely convenient to access the resort by road and is just a 15 km/25 minute drive from the heart of the city. This Palace is an ideal wedding destination for couples who desire to experience the Rajput royalty along with the natural aesthetic beauty.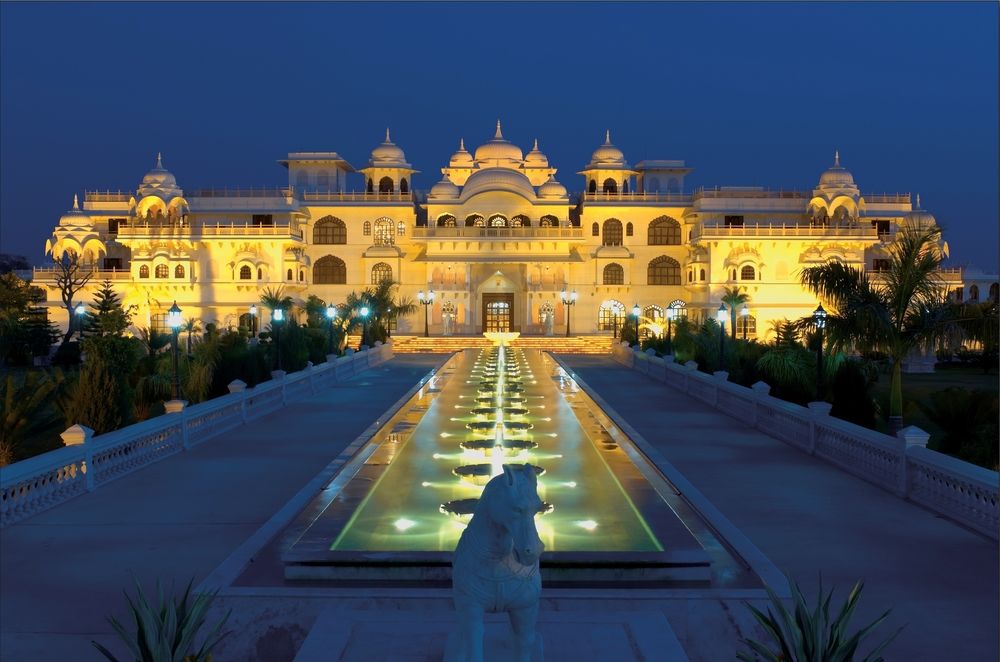 JW Marriot Jaipur Resort
Combining elegance and efficiency, JW Marriott Resort offers a 51,000 sq. ft. of space divided into five event rooms and a huge lawn with beautiful mountain views. The banquet halls at the hotel can easily accommodate 50 to 300 guests so that you can celebrate the auspicious occasion of marriage with your friends and family. They also provide other amenities to make your stay at the hotel comfortable and memorable. They have poolside, lawns and terrace as venue options which you can choose as per your preferences.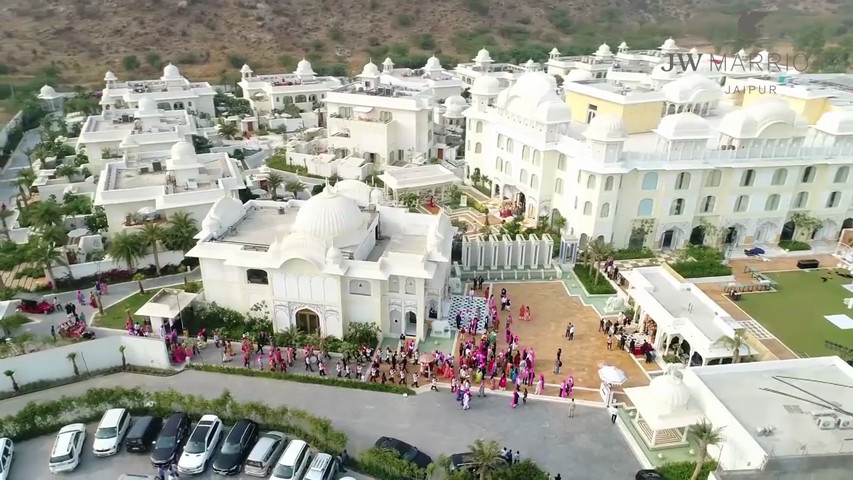 Rambagh Palace
Built in 1835, Rambagh Palace has witnessed several royal transitions over time. It was earlier the home of the queen's favorite handmaiden and later switched to being the royal guest house and hunting lodge and even later Rambagh Palace was home of Maharaja Sawai Man Singh II and his queen, Maharani Gayatri Devi. At present, this palace has been built into a hotel crowing 78 stunningly restored grand luxury rooms and suites which were the chambers of the former Maharaja. Retaining its elaborate splendor, the Palace is a stunning wedding venue for anyone who wishes to exchange vows in this royal bliss.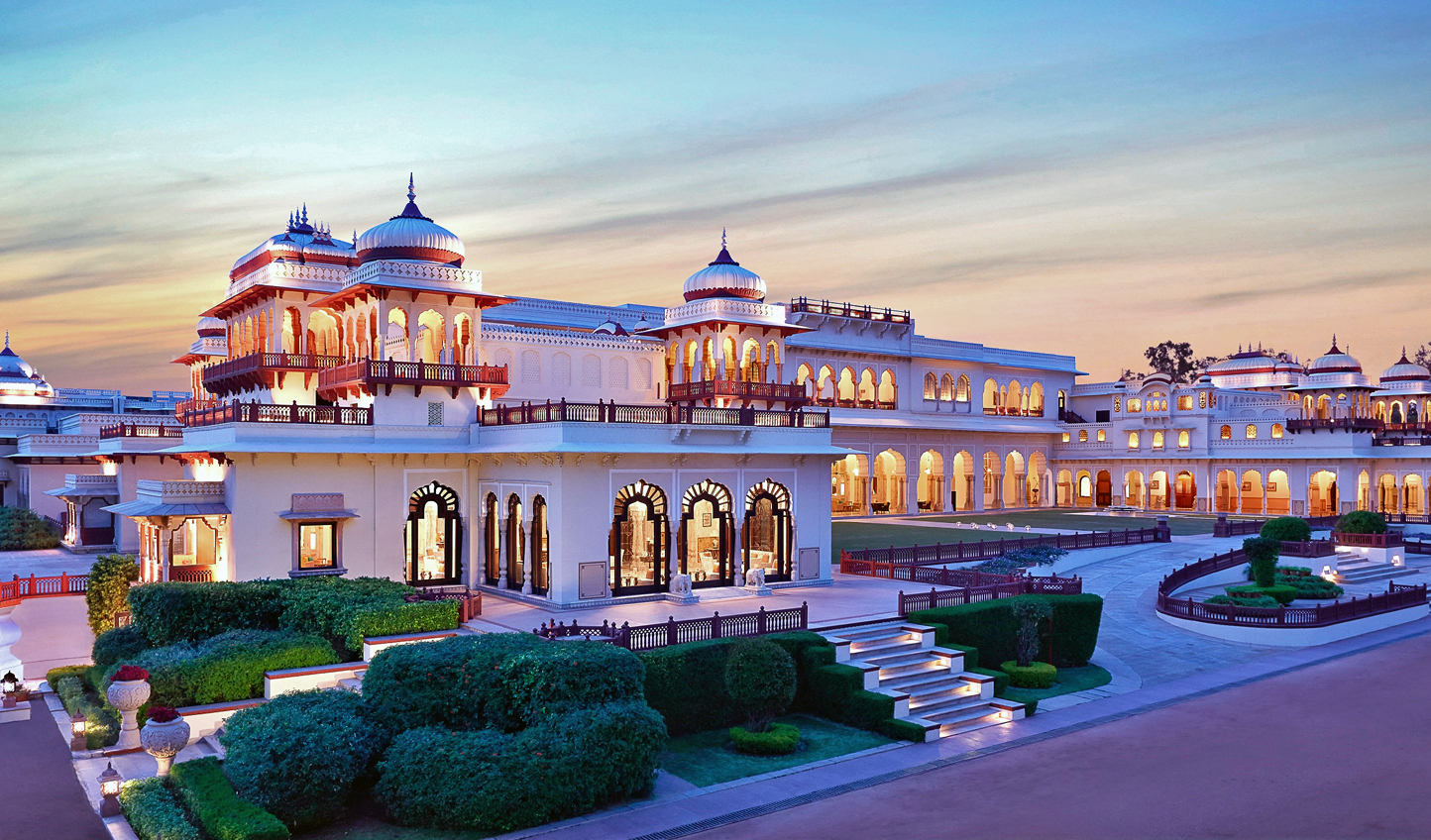 Narain Niwan Palace
Narain Niwas Palace is a popular attraction spot among people visiting Jaipur. Its architecture speaks volumes about the rich cultural legacy of the Rajput rulers and being able to get married here gives a sense of pride to the couple. Built in the year 1928 by General Amar Singh Ji, this very famous palace is located in the heart of the city. The architecture of this beautiful palace is inspired by Anglo Indian style that was popular in the Victorian era. Weddings at this royal palace fascinate the new age couples and to have a dream of fairy tale marriage and experience to be cherished forever.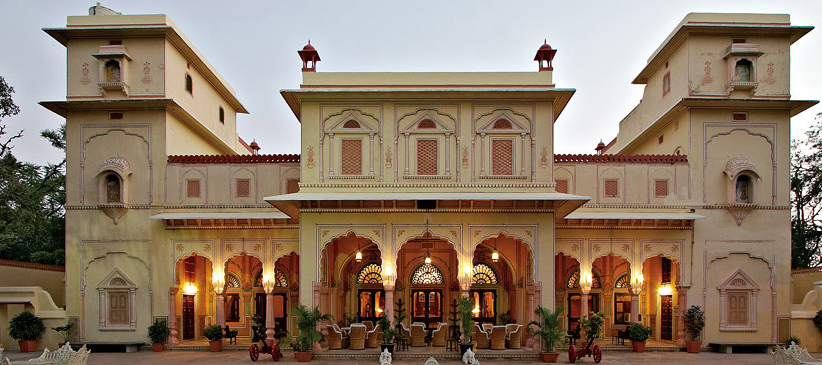 Samode Haweli
Getting married in the royal haveli in Jaipur is bliss in itself and Samode Haveli has the perfect combination of indoor and outdoor venues to suit your needs for a royal wedding. Samode Haveli has started to become a very popular venue among couples since last few years because of its amazing set up that is a perfect blend of classic and contemporary culture. Being more than 150 years old, Samode Haveli adds an authentic touch of regality to your wedding. Transformed into a hotel, Samode Haveli is a spectacular venue for your wedding.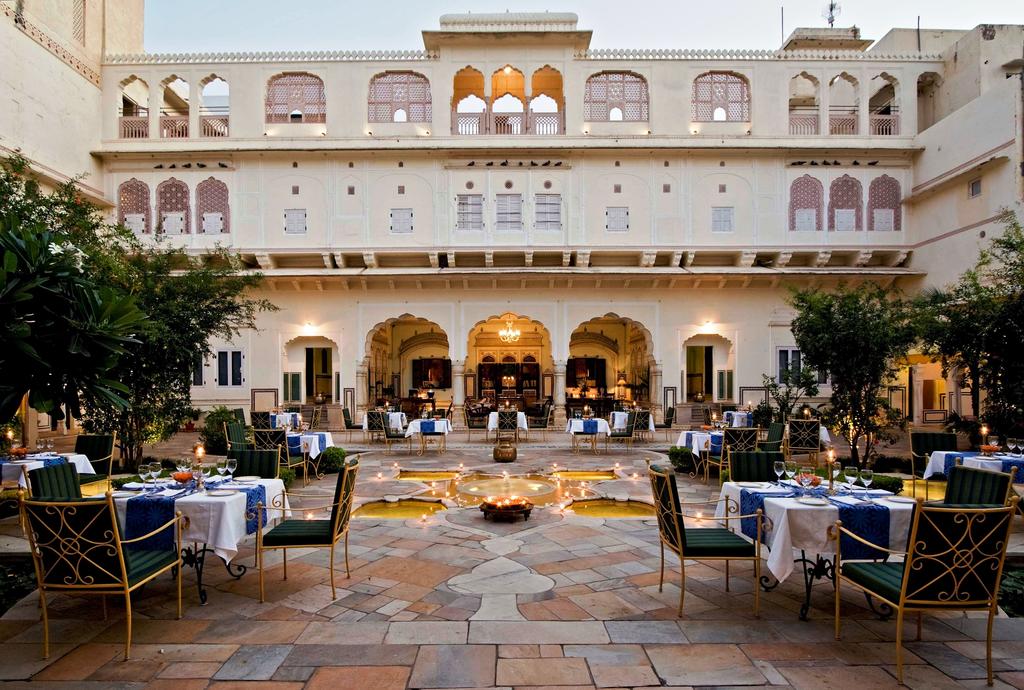 The Lalit
Located in the heart of the city's thriving commercial district, the Lalit Jaipur is one of the most popular wedding venues. It reflects the true cultural heritage of Rajasthan with its grand haveli style architecture and spectacular indoors providing perfect colorful ambiance suitable for Indian weddings. The indoor and outdoor venues options in The Lalit are Crystal Ballroom, beautifully landscaped Party Lawn and the lovely central courtyard surrounded by water bodies. Your wedding at The Lalit is sure to be with enduring tastes and alluring presentations the memories of which would be cherished for a lifetime.