Top 15 MOST AWESOME DESTINATION WEDDING LOCATIONS IN RAJASTHAN
With its majestic forts and magnificent forts, Rajasthan is the best choice for anyone planning for a royal wedding . The picturesque lakes and golden sand dunes offer the perfect backdrop for your wedding pictures.
When planning for a wedding in Rajasthan the most popular cities are Jaipur, Udaipur, Jodhpur, and Jaisalmer. Ajmer, Bikaner, and Pushkar have also started to bloom as hot wedding destinations for in recent times. There are diverse venue options in Rajasthan which include traditional havelis, royal palaces, magnificent forts and newly constructed palaces like luxurious 5-star hotels.  Some old age heritage properties have now been converted into heritage hotels are also very popular among people looking for a traditional royal grand Indian wedding venue.
Wedding venues in Rajasthan are diverse and people can choose from the wide range of options available to fit all sizes of budget. We have researched through different diverse locations in Rajasthan and have picked top 15 venues in top major cities.
1. UMAID BHAWAN PALACE JODHPUR
The lavish interior of the palace with antique royal furniture, Umaid Bhawan Palace of Jodhpur is one of the largest private residences in the whole world. Umaid Bhawan Palace offers one of its kind grand venues for your dream royal wedding. From the unique décor of the lavish venue to the wide range of culinary showcase the authentic culture and tradition of the place. Umaid Bhawan is well connected to the airport and railways making it very easy and convenient for guest to travel to and fro from the place.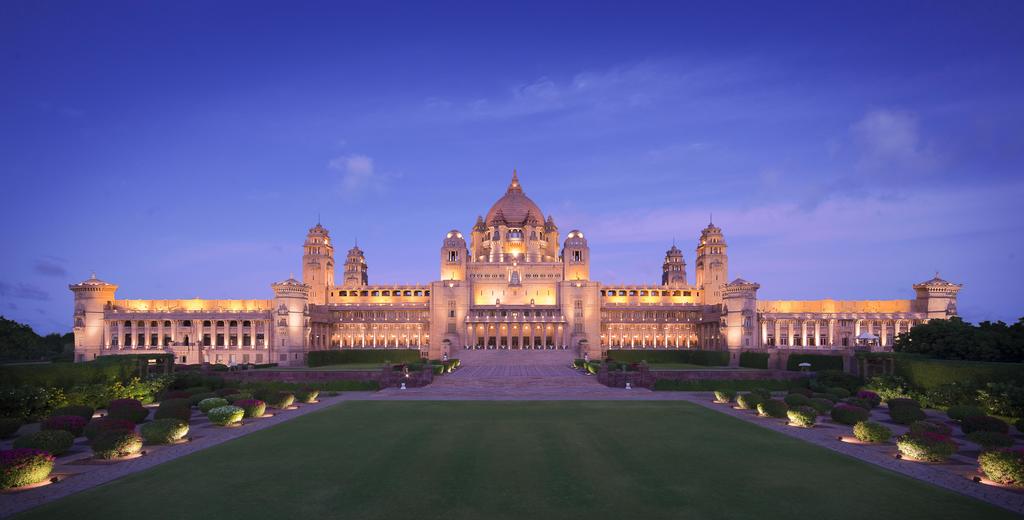 2. TAJ LAKE PALACE UDAIPUR
Located in the middle of Lake Pichola, Taj Lake Palace emerges as a giant white pearl amidst the waters if the lakes.  This place has an element of grand architecture that has withstood the winds of change. It was built in 1746 by Maharaja Jagat Singh 2 offers an unparalleled experience in luxury, nobility, and heritage.  Located 26 km away from the Udaipur Airport, it takes 40 minutes to reach the place. Also, this beautiful palace is just 4.5kms away from the Udaipur railway station making it very easily accessible for everyone.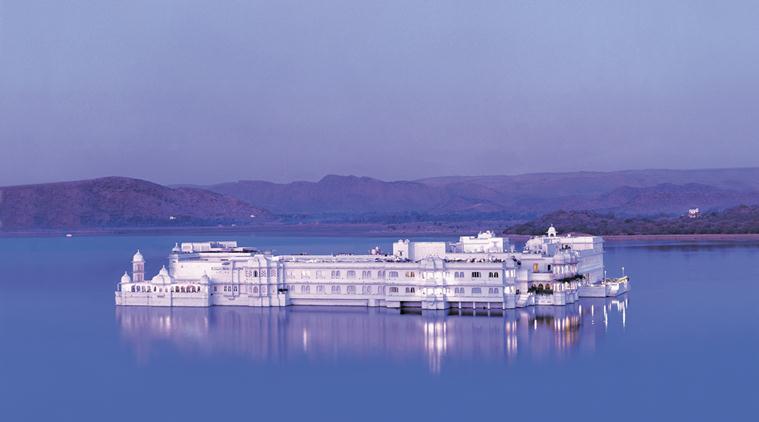 3. TRIDENT JAIPUR:
Awe-inspiring views of the peaceful Mansagar lake and the magnificent Aravalli hills, Trident Jaipur is the perfect stage for an indian wedding. It is located en route to the very popular Amber fort and the hotel is known for its amazing rooms and suites. In total it has 132 breezy relaxed luxurious rooms and suites. Each of the rooms at Trident Jaipur has "jhorakas" that provide breathtaking view of the gardens with the majestic Aravalli hills in the background.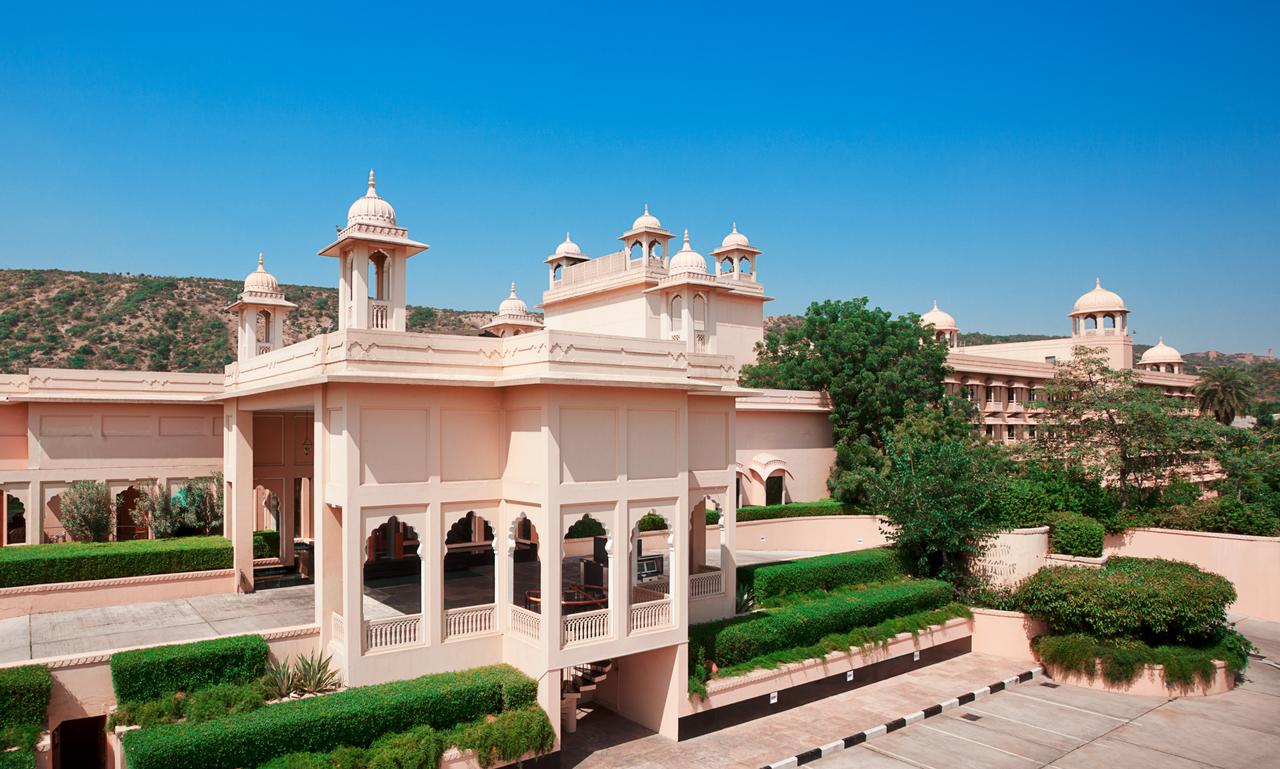 4. RAJASTHALI RESORT & SPA JAIPUR:
Rajashthani Resort and Spa in Jaipur is a perfect blend of the traditional Rajasthani spirit and the modern contemporary style. Your family and guests attending your wedding can easily visit some of the few very famous attractions in the city such as Hawa Mahal, Amber Fort, and The City Palace.  It has in total 53 furnished rooms to offers for your wedding functions and room options include Deluxe Palace Room, Royal Luxury Tent, Grand Luxury Tent, and Premiere Palace Room. Each of these rooms is sound proof to help you and your guest rest in silence and have features like WIfi and memory foam beds to make your stay here memorable.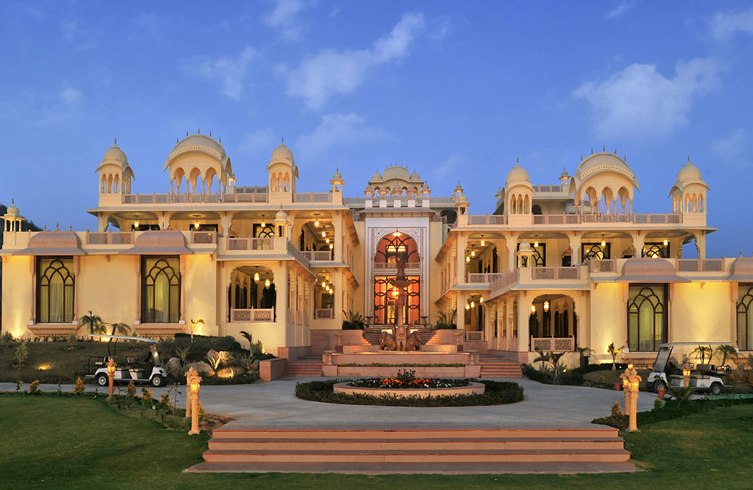 5. GOLD PALACE JAIPUR:
The Gold Palace and Resort is just 30-minute drive from the Jaipur junction offer a beautiful view of green hills and tantalizing landscape. This resort is built over 13 acres of land is a perfect place for weddings with lush green lawns and beautifully carved rocks offering a beautiful backdrop for wedding pictures. They have a very interestingly blended Mughal landscape with lavish magnificence. All contemporary leisure facilities such as Spa, Swimming pool, Sauna, games room, DJ music, dance floor and so on is available making your and your guests stay memorable. They have in total 62 deluxe room, 4 deluxe suits and 2 gold suits and each of these is well equipped with facilities like Wifi, electronic safe etc.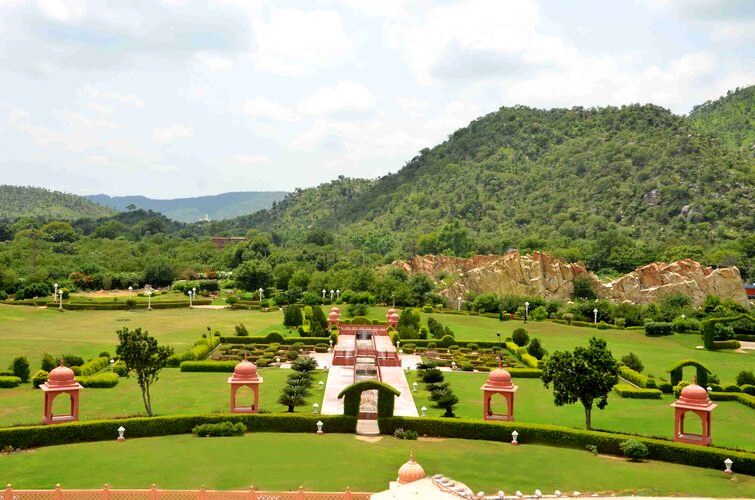 6. FATEH GARH UDAIPUR:
Located on a small hill in the Aravalli ranges, Hotel Fateh Garh is a beautiful hotel in the heart of the "city of lakes", Udaipur. It offers 360-degree commanding views and has a tradition of welcoming guests in traditional style and fanfare. This heritage palace in Udaipur is constructed on the basis of Vaastu principles which has its sources in the Vedas and is believed to maintain balance and harmony between the natural forces. It has in total 48 rooms in total and is famous for offering the guests a peaceful stay filled with luxury in the heart of the urban city.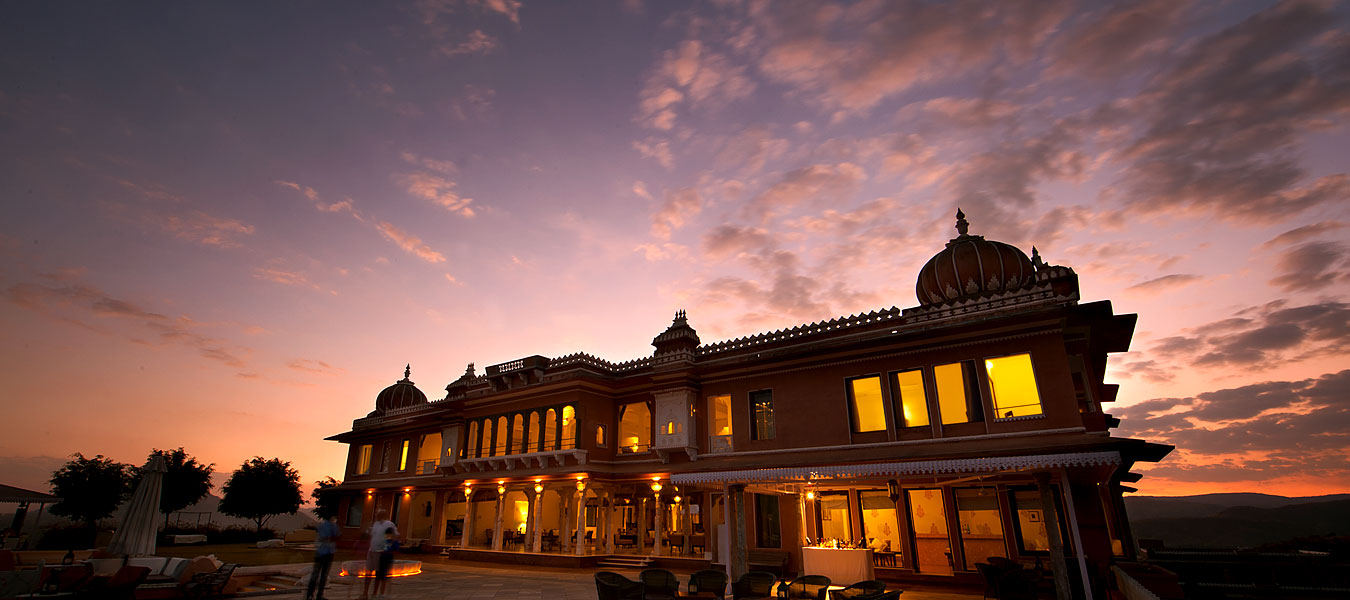 7. FAIRMOUNT JAIPUR:
If you are looking for a hotel that is located far away from the chaotic urban life and has a touch of authentic Rajasthani culture, Fairmount Jaipur is the perfect location. Fairmount Jaipur is famous for its grand décor with an element of royalty and it's close proximity to popular city tourist attraction spots such as City Palace, Ram Niwas Garden, and Jantar Mantar. Hotel Fairmount specializes in a wide range of culinary have a large variety of cuisines to offer. They have banquet halls that would be suitable for all occasion ranging from small scale close family functions to large scale wedding functions.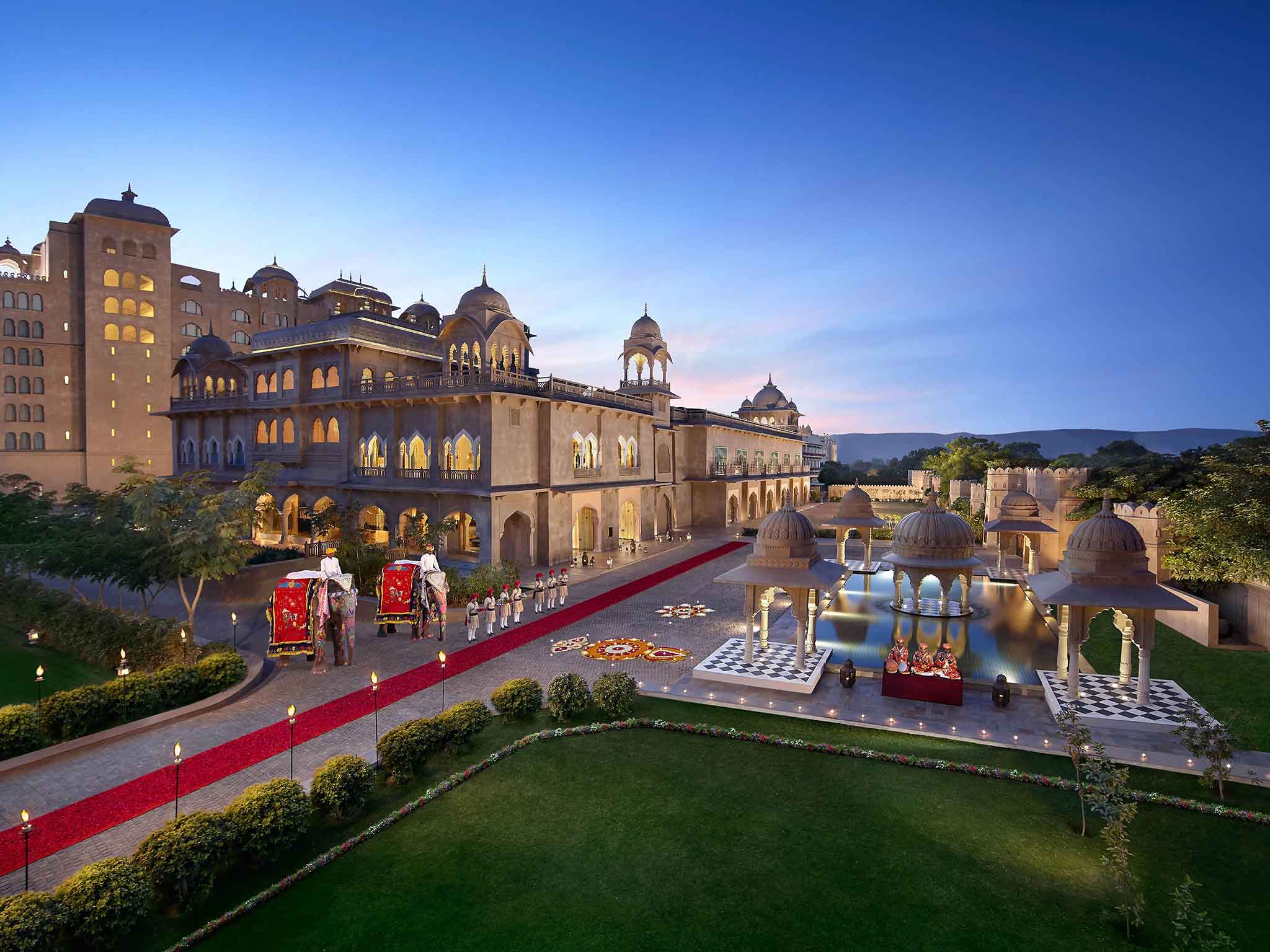 8. ANANTA SPA & RESORT UDAIPUR :
This beautiful hotel is a perfect choice for anyone who is interested in a peaceful venue for their wedding offering a beautiful scenic view from each of its room.  This beautiful hotel is at a distance of 7km from the main Udaipur City and is 30.5 km away from the Maharana Pratap Airport. The special services of the hotel with high-class amenities make it a special stay for you and your guests. In total, they have 158 well-equipped rooms and the ambiance of each is top notch with rich wooden flooring giving an authentic feel to your stay at Hotel Fairmount.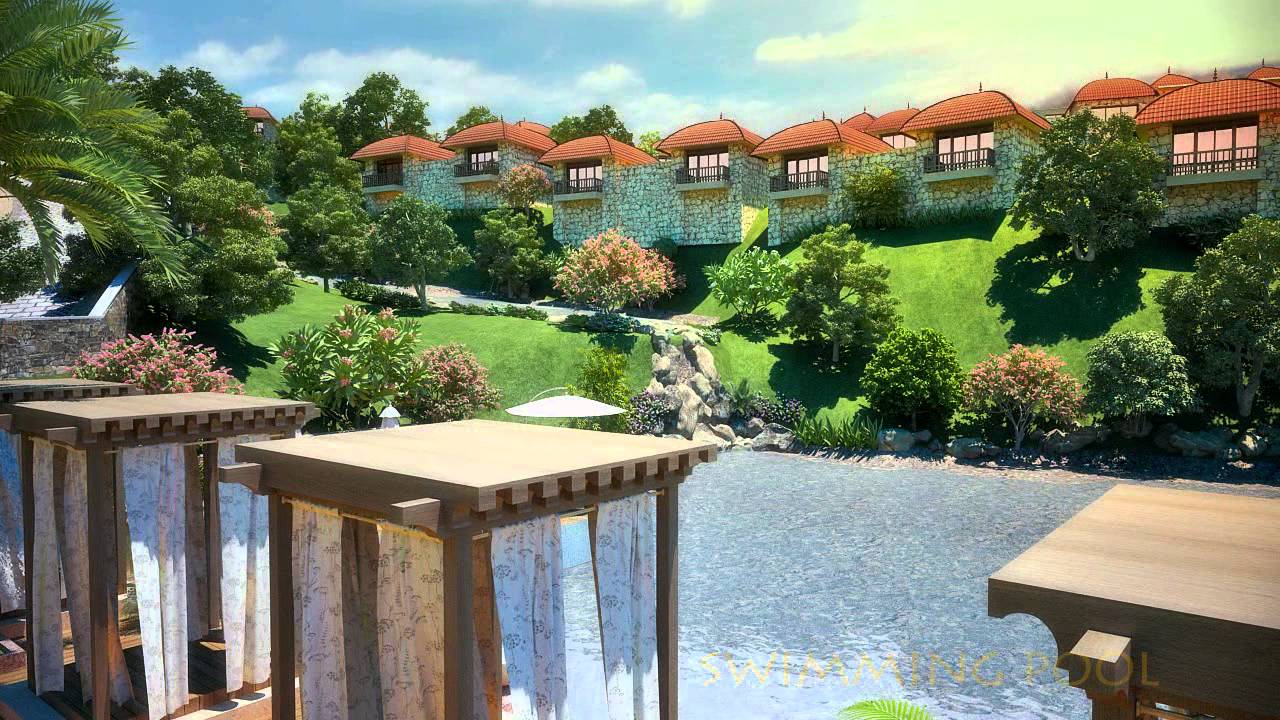 9. RAMADA UDAIPUR RESORT AND SPA:
Mewar region inspired architecture, Hotel Ramada Udaipur offers a touch of authentic royalty has a very peaceful setting. If asked what is that one things set this hotel apart from the others are its technique of construction. The surrounding of the hotel has been kept as natural as possible making sure that the guests get a natural scenic beauty to witness. In total there are 72 guest rooms and each of these has a spacious balcony. It also has 2 banquet halls for small to big wedding functions constructed beautifully so as very minimum decoration is required.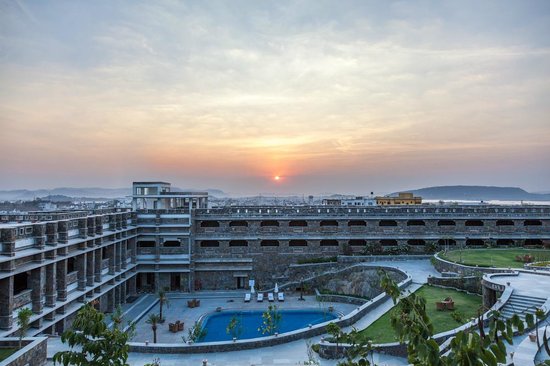 10. RADISSON BLU UDAIPUR PALACE :
This beautiful palace hotel is set on the banks of the magnificent Fateh Sagar Lake is centrally placed in the city of lakes, Udaipur. Radisson Blu Udaipur Palace Resort and Spa is surrounded by awe-inspiring sites all around. This hotel also offers top-notch upscale amenities such as onsite spa, two-level swimming pool with gushing waterfalls. The special facilities that it offers from valet parking for cars, as well as large coaches and other even related facilities, makes it the ideal spot for holding weddings. In total it has 240 plush rooms to offer each overlooking either to the jungle and green lawns or to the dazzling lakes.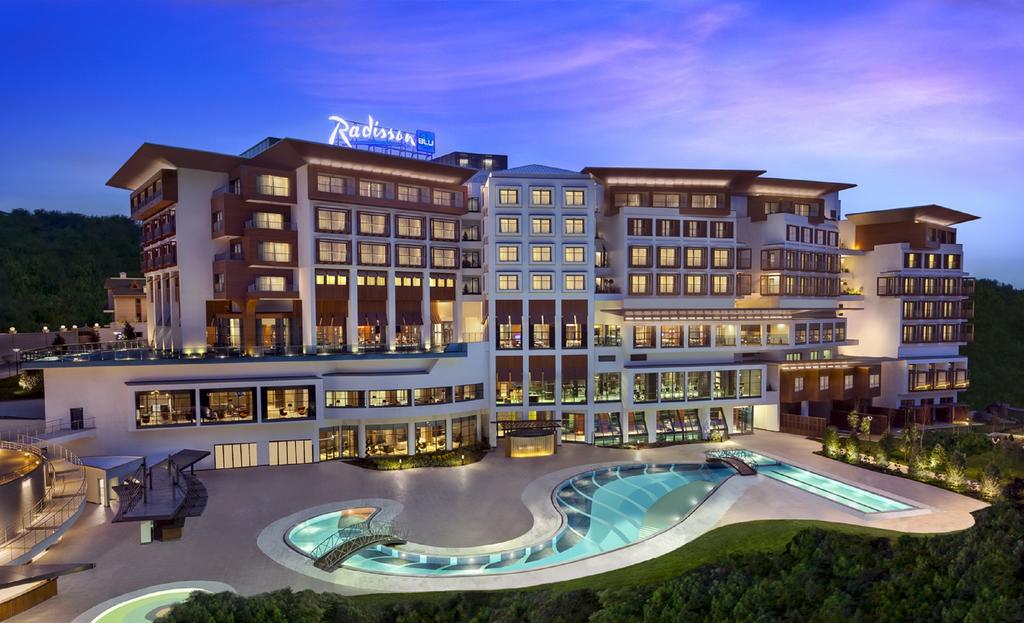 11. CHOMU PALACE JAIPUR :
This palace was initially built to house the armies and chiefs and hence it has a very unique style of architecture. This palace is a blend of culture and style influenced by the 150 years old Rajput monarchy with Mughal and European aesthetics. Unlike other heritage structure, Chomu Palace strives hard to maintain its original character giving a very realistic view to the Luxury that one experiences in heritage hotels. Equipped all modern amenities, Chomu palace has 58 suites to offer with each suite designed very minutely.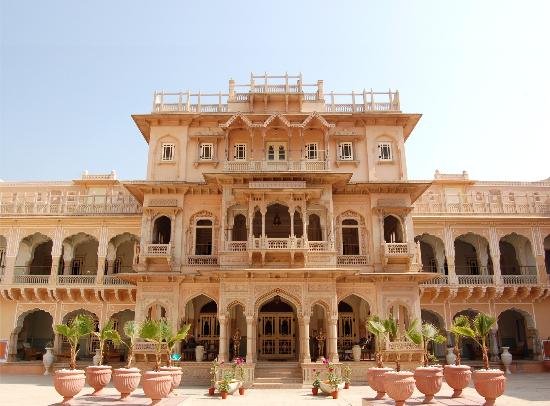 12. SHIV VILAS PALACE JAIPUR :
Located in the pink city, Jaipur, this palace is a great combination of romance and grandeur. With luxurious interiors and magnificent royal architecture, this place is also regarded as a paradise on earth. This beautiful resort is built on "palace theme" and offers a breathtaking the view of the Aravalli hills from its room. Equipped with all modern hi-tech amenities, Shiv Vilas resort is an ideal destination for weddings and is often preferred among the tourists.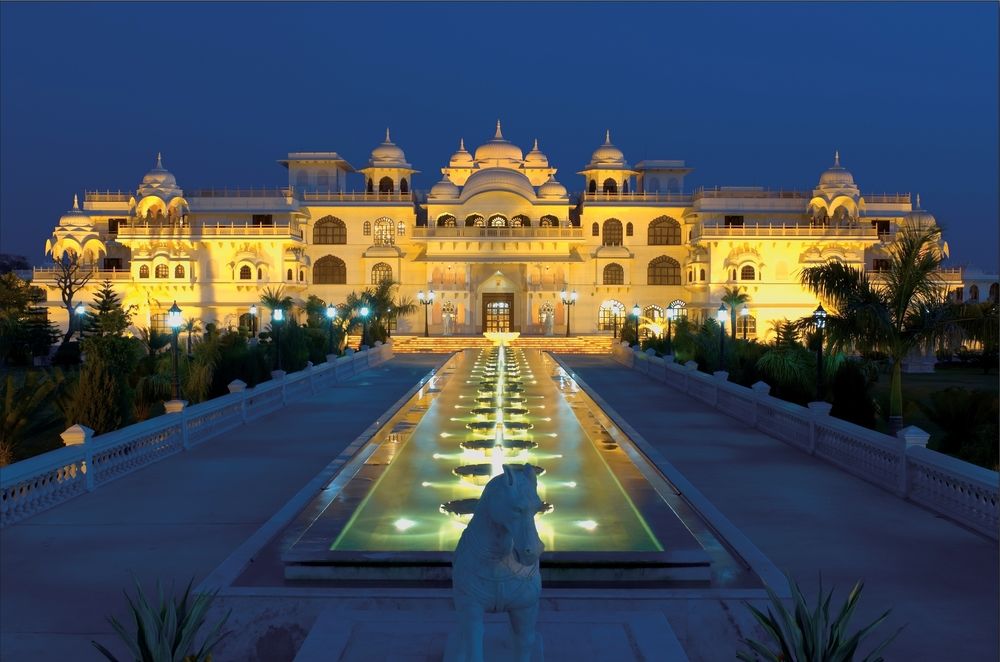 13. SAMODE PALACE JAIPUR :
One word to describe a wedding at Samode would be "rich". Not rich in grandness and blue blood nobility (there is a lot of that as well) but in a sense that it is rich in Rajasthan's authentic culture. Samode Palace in Jaipur has very beautifully decorated regal ballrooms and romantic moghul gardens that makes it very popular among people looking for similar infrastructure for their wedding venue. It also has a sunset terrace venue and poolside wedding venue breaking the stereotypical wedding venue options in the market.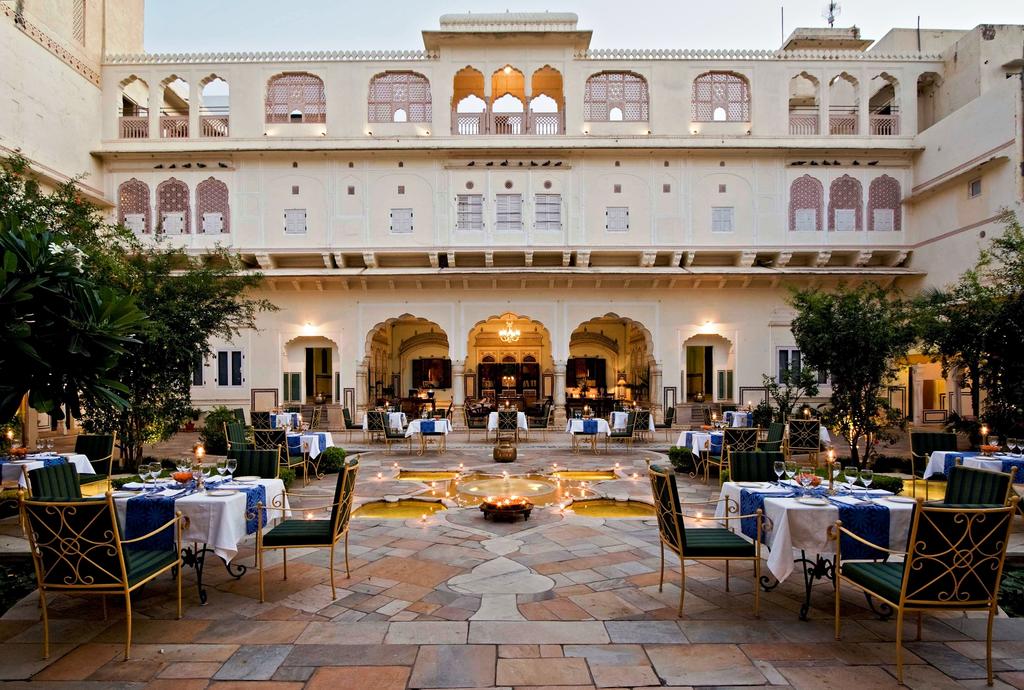 14. NEEMRANA FORT PALACE :
This heritage palace was built in the 15 th  century and makes it to the list for anyone looking for a wedding venue that has its influence in history and is full of rustic charm. Neerma Fort Palace has over seven separate palace wings that are built over 6 acres of garden –palace, making it the most unique resorts in Rajasthan. It is a terrific option for anyone who is looking for a unique fort wedding or palace wedding destination.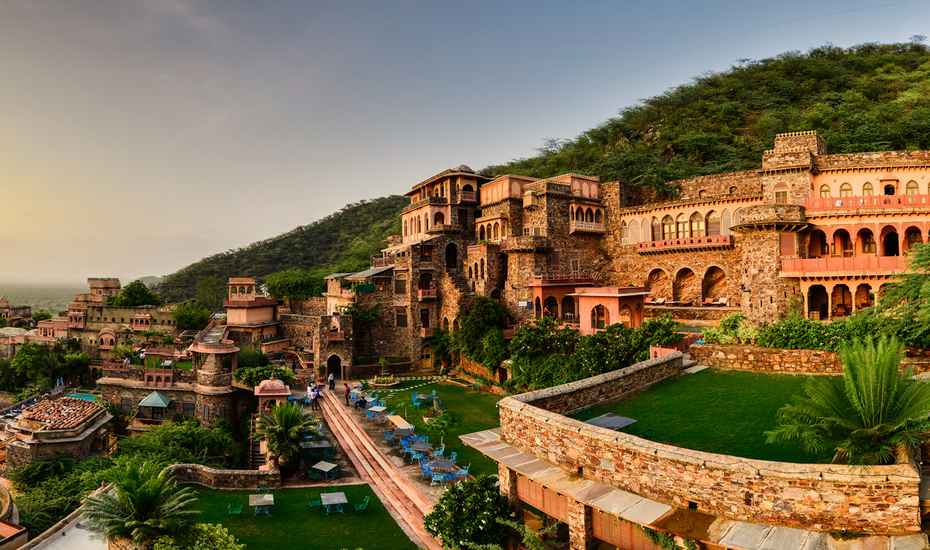 15. CHUNDA PALACE UDAIPUR :
Chunda Palace originally belongs to one of the prestigious blue blood nobles from the Mewar kingdom and is now converted into a full-service hotel and is one of the most desired royal destinations for magnificent regal weddings. Having over 46 elegant rooms, esteemed restaurant and wide space for wedding related function, Chudnda Palace reminds one of the Royal India that was a land of palaces and forts with kings and queens. It also has 2 swimming pools and features a wide range of activities. Located just 6kms away from the railway station, it is very convenient for one to reach the place.